Bay To Breakers 2006
Where else can you get a free, flying tortilla breakfast and a cardio warm-up all at the same time?!
For a second year the Bay to Breakers was the funniest and most bizarre morning I've had in a while. This is San Francisco's San Fermin (running of the bulls), and Denise and I were out in full force. Before our Starbucks had even begun to kick in we were pushing our way to the front of the crowds, leaving hundreds of Smurfs, Elvises, and nudists in our wake. After a few beach balls to the head followed by a countdown of such vehemence that I could overlook its distinct lack of synchronization, the streets were ours. An hour and forty minutes later, now with three bruised toenails between us, the finish line (and our choice of footwear) was just an afterthought. That said, all in all the weather, costumes, music, and positive vibe was fab, and it was one of the many events that makes me love SF. I will miss it!
Here are some pics I was able to get online from the race:
(Denise and I started further up than this picture shows).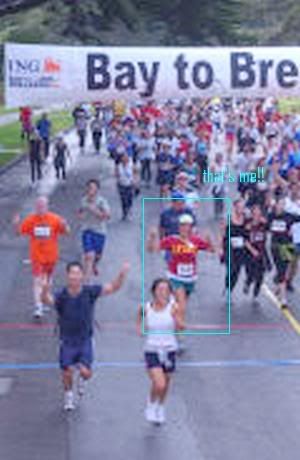 In Peace Corps news I will be leaving for Philadelphia on June 11th for three days of "Pre-Service Staging" before I fly out to Tanzania with the 40 other volunteers in my group.